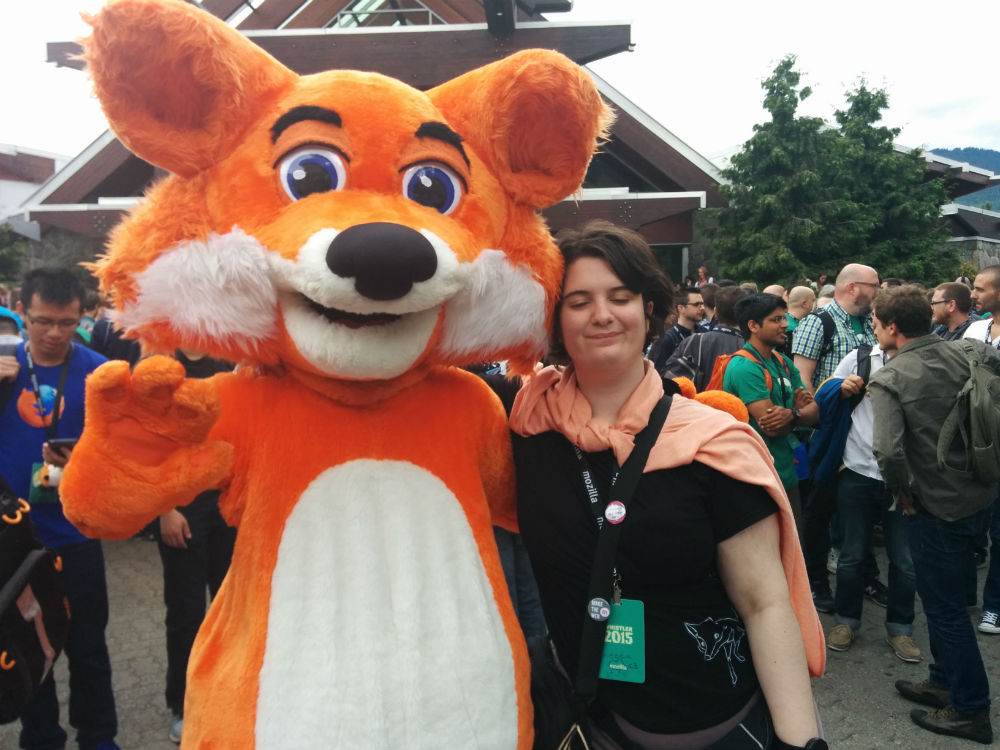 I had the pleasure to spend the week of the 22nd – 27th of June in Whistler, BC for Mozilla's all-hands conference, called Mozilla Work Week. The invitation came out of the blue, and I am extremely grateful to have received it! I could say that it was some of the best moments I've had in my life.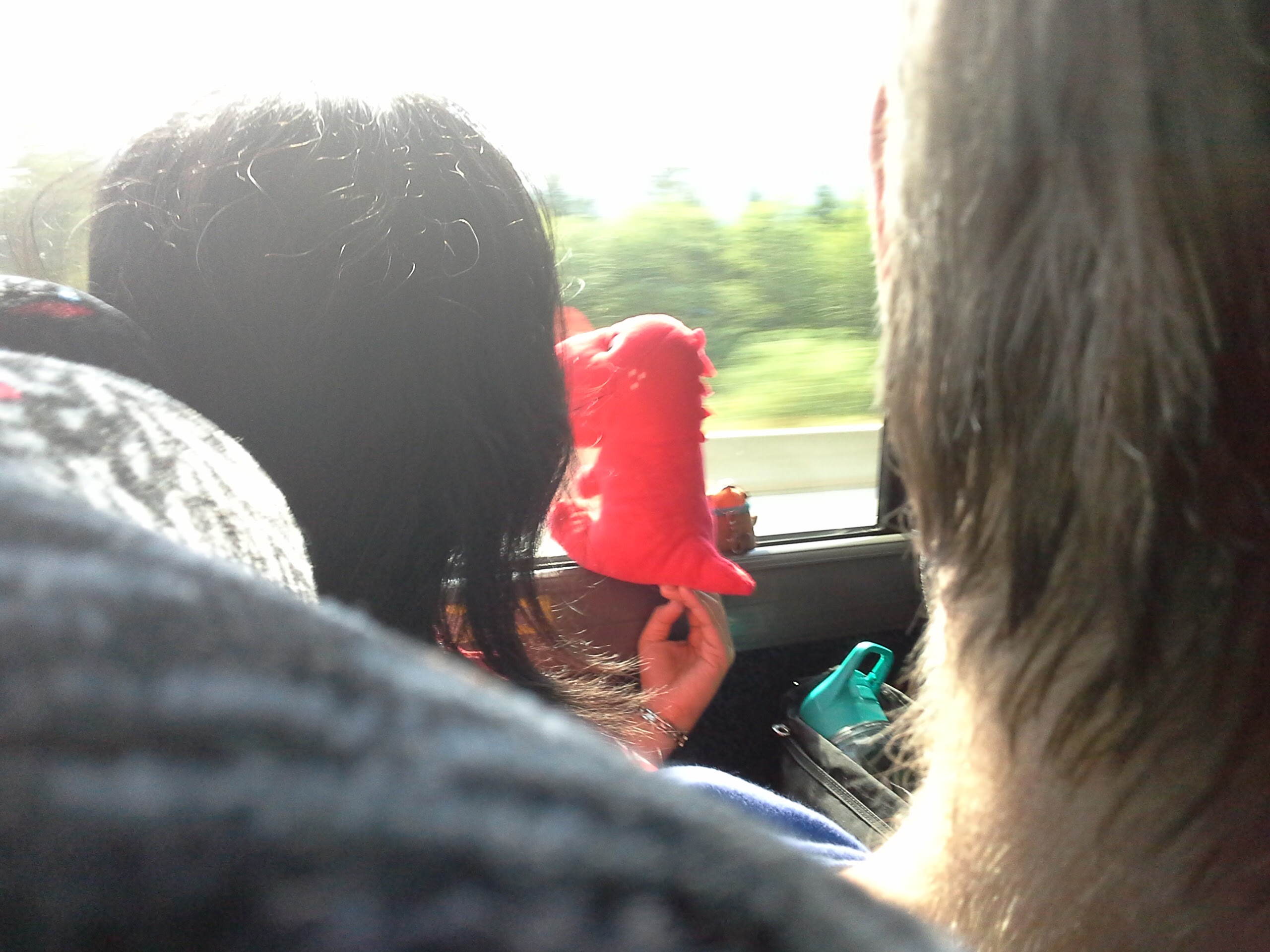 Arriving in Whistler I realised that it's such a beautiful place that it's almost unreal. I was exhausted from the jet lag (let's just say that this was a 9.5 hour flight leaving Manchester at Monday 1200 BST and arriving at Vancouver at Monday 1330 PDT…), travel, and finding my hotel, but when I got to the hotel reception I was greeted by a sign saying 'welcome mozillians', and some of my most favourite Mozilla people which made me feel a lot better! I had to contain myself so that I could check in before talking to them and handing out hugs!
When I got to my hotel room I was greeted by another little box which contained my conference badge, stickers, and, most importantly, meal vouchers. Mmmm. It also had a bath tab, which I gladly used before getting some well-deserved sleep.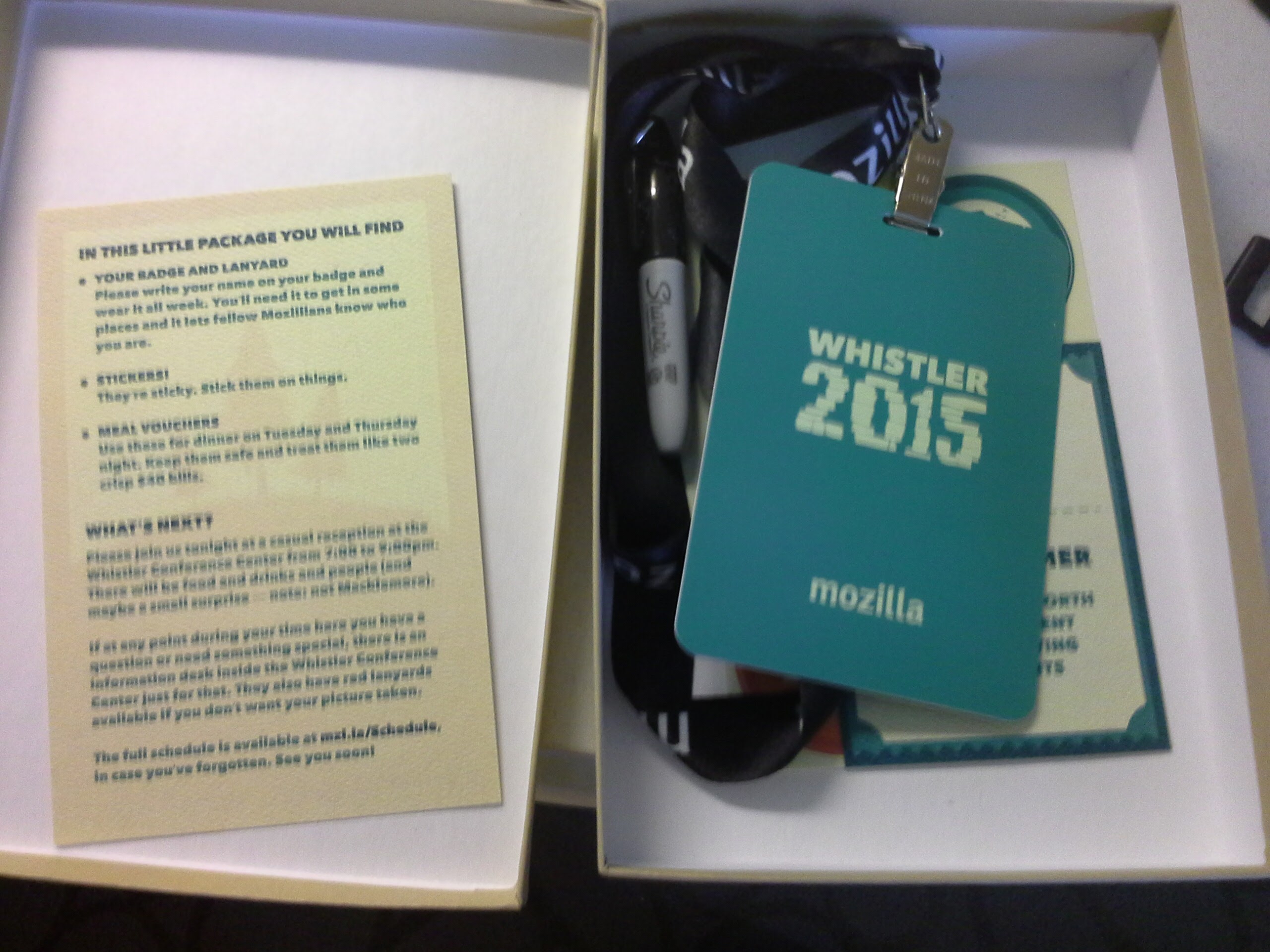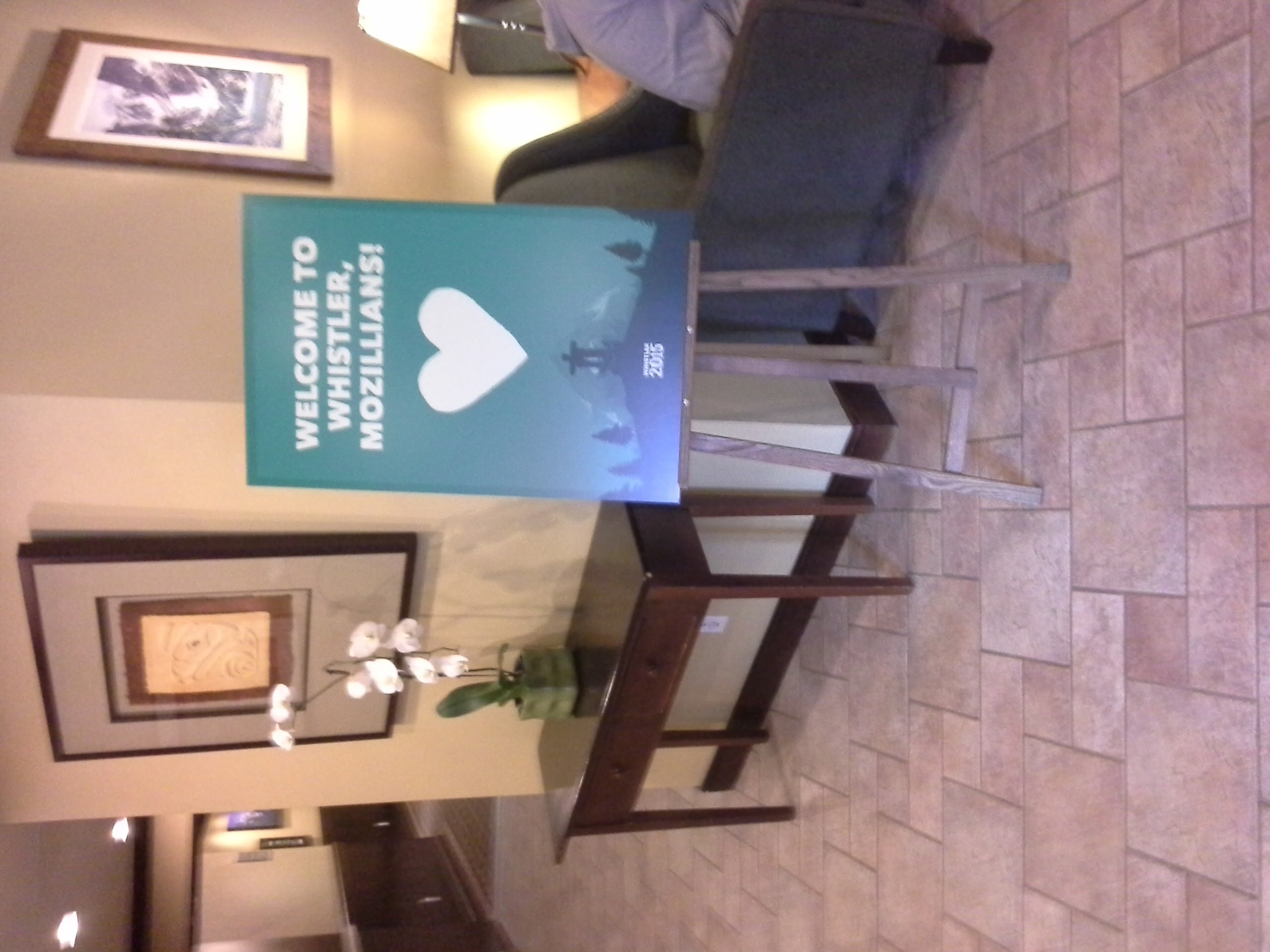 The conference finally started the next morning. The very first session was an all-hands, including every single person at Mozilla, and I was extremely happy to be one such person! The all-hands reminded us that we're awesome… and we had some good inspiration on how we can come together and work together. We learned about making sure we 'date' our users; that is, working with them to ensure we're delivering software that they need and want to use. Some of us even had the opportunity to make little ducks out of lego!
The afternoon found me back at my hotel, attending some AMA sessions and discussions with various people at Mozilla Foundation. This was also a chance of me to find more of the Webmaker team, the team that I work the most with, together and socialise. I also attended the Mozilla science fair, where I could see what cool new things each team had to showcase. The most exciting things were Web of Things libraries that allowed controlling hardware, such as LEDs through your browser, and VR code that worked with Oculus Rift to facilitate stunning, immersive games and applications.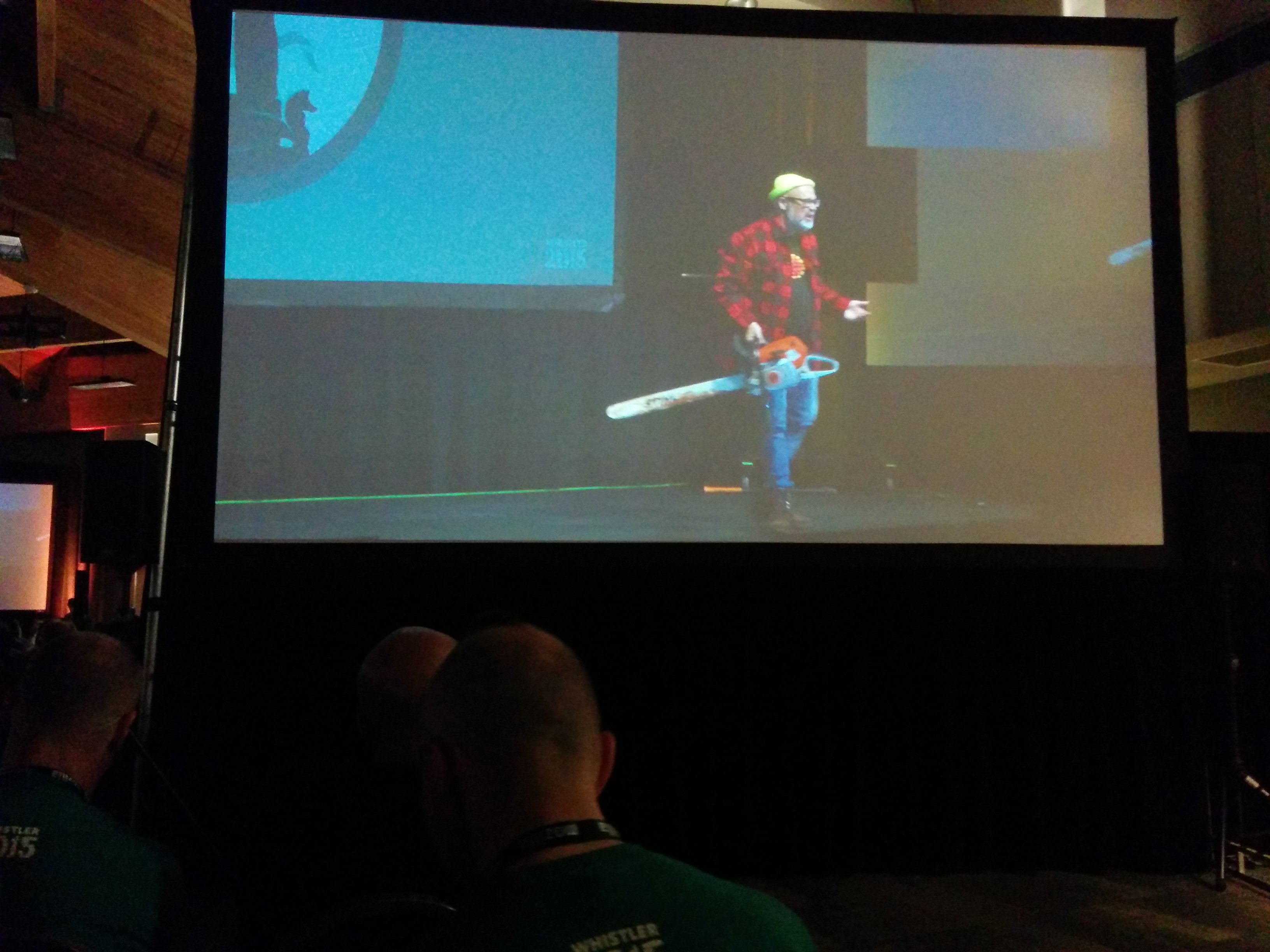 The next day, Wednesday, included a demonstration fo the Webmaker project. I attended this and helped collect suggestions and bugs for the github issues page while building an application with two other mozillians.
I also attended a session on Radical Participation (which was radical!). We listened to speakers, such as CEOs of other companies, talk about how they make sure their staff and users are included in the process of building their products. One of my favourite talks was about the Obama electorial campaign in 2012, in which actual every day people had their say on issues they wanted resolved, and the campaign was ran by volunteers working from their homes, garages, etc!
Thursday was the busiest day for me. I attended a picnic with the Webmaker engineering team where we discussed ways we could improve the contribution experience for the project, for example by providing some tutorial sessions where we help volunteers with the initial installation, as well as technical tutorials for JavaScript, React, Java, and other needed skills, which I think is an amazing idea and I'm looking forward to!
After the picnic I had another participation session with Emma Irwin (<3) and her team. The session attendants consisted primarily of volunteers, which I found very good since we could all talk about our own experience and the problems we faced. I talked about installation being difficult and sometimes having to wait to get help with it, as well as volunteers asking for mentorship and more clear pointers on bugs, some of which can be very vague, and sometimes not getting a response for months. I also spent some time hacking on a React application with my beloved Kate Hudson so that I could learn more about it. The evening also consisted of a Mozilla Foundation party where I was thanked for my contributions! [caption id="attachment_540" align="aligncenter" width="1000"]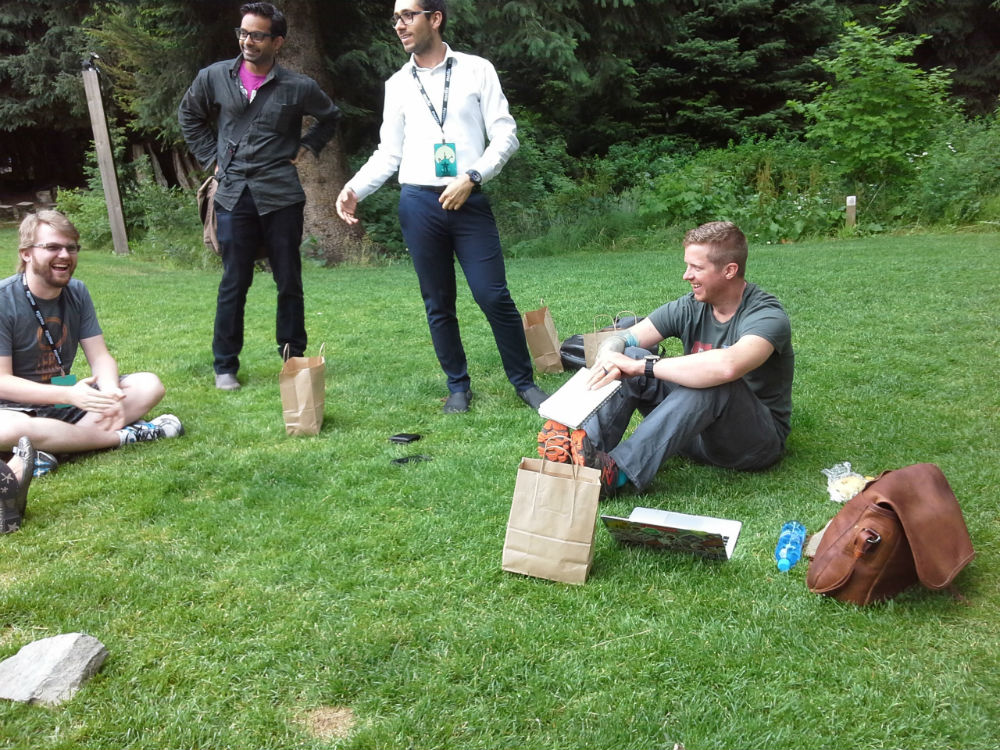 Engineers need to eat, too[/caption]
Finally, Friday was a bittersweet day. Sweet because we took an amazing group photo with Foxy mascot, and had a great party up in the mountain! We took the Whistler gondola, which took us to the peak of the mountain while providing us with a unique experience and a really amazing view. The party itself had food, drinks, and Mozillian karaoke and dance.
Of course, it was bitter because it was the last day of the conference. I will miss Whistler, I will miss my Mozillian friends (even though we talk online!) and I'm looking forward to the next amazing opportunity being a Mozillian gives me!